Whether you're in the concept, development, or production phase, MW Life Sciences specializes in helping you bridge the milestones to the medical device market.
Getting your product through the development and regulatory process can be quite a challenge. We can help. As a turnkey concept-to-supply partner, we provide a unique single source solution to medical device companies and entrepreneurs alike. Our innovative, high-value concept-to-supply services span design, development engineering, sourcing, assembly and packaging services.
Our strategy is to get involved early and operate as an extension of your development team. We partner with our customers by providing premier engineering from inception to completion of each project, developing value engineered products. We have all the necessary resources to integrate our activities into our client's product development and supply chain process.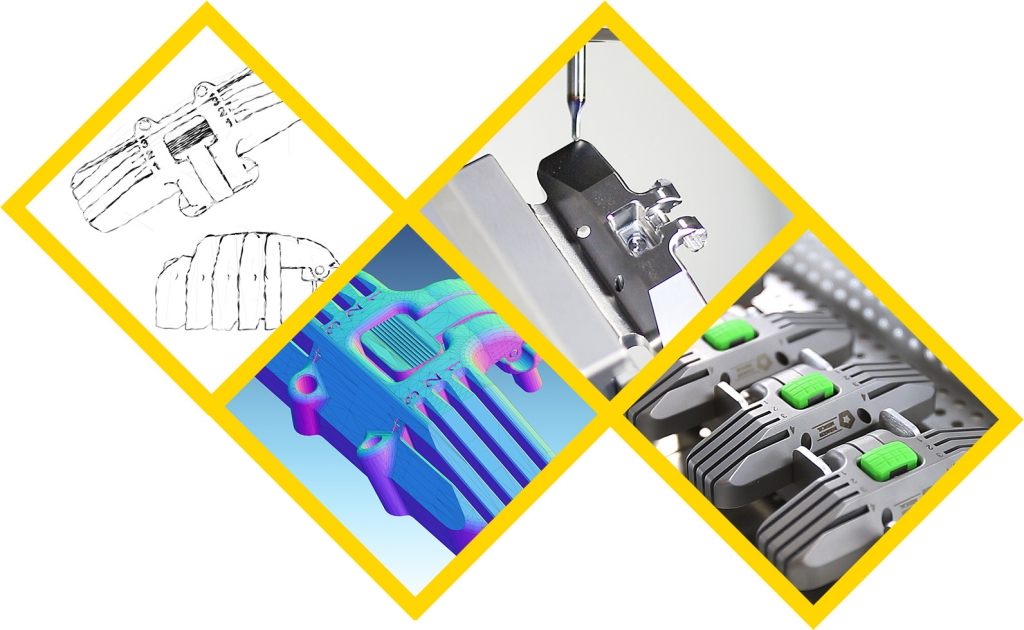 Working together, we establish common goals, and then achieve them. Our commitment to excellence is evident throughout the design, validation, and advanced manufacturing processes. We offer:
Medical Device Product Development
Contract Engineering for Medical Devices
Medical Device Product Design
Contract Manufacturing for Medical Devices
We always have your finish line in mind. Our understanding of the regulatory demands as well as the entire commercialization process affords our clients the confidence that their product will launch on time.
How many products do you have in development? How many instruments must be concepted, prototyped, and validated? Involve us in your product development and we can help you get more done in less time.
Our team has extensive project management experience through the entire commercialization process. We understand the compliance process, including regulatory and design validation requirements. This knowledge allows for a more seamless design transfer to ensure a timely launch.
Design & Development Service Benefits
Reduce manufacturing costs
A key benefit is our new product introduction process at our global manufacturing sites. As part of that process, our Design for Manufacturability (DFM) capabilities can reduce complexity that results in the reduction of both cost and quality issues, while ensuring long-term manufacturability is evaluated early in the process.
Working as an extension of your business's R&D department, our design for manufacturability services help optimize the manufacturing of your precision component. Our development team is well versed in the latest technologies, including software and equipment, and has significant experience in manufacturing advanced, precision components. We rapidly develop a meticulous plan that minimizes the number of steps but optimizes material yield. This includes recommendations for tolerances and other minor changes, which improve the ease and speed of manufacturing while ensuring proper function. The result is faster, more cost-effective delivery, without compromising quality.
Our capabilities cover a broad spectrum of medical device products and our team members have extensive experience in design and development for medical devices, giving us a first-hand understanding of the industry's product development needs. We have worked with small to major OEMs on a variety of projects while maintaining strict confidentiality of every project.
Accelerate time to market and minimize risk
Our turnkey concept-to-supply business model accelerates time-to-market and minimizes risk for our clients. With ISO and QSR compliance, state-of-the-art facilities, competitive costs, and an established network of global contacts including the Far East, we can get you there.
In addition, we can assist in the prototyping stage of part development, helping you transition smoothly from raw concept to production run.  We respond promptly to your needs and can adjust planning and execution rapidly to accommodate any changes that may arise.
Strengthen intellectual property and gain technology expertise
We know we're not the only resource working to move your project forward. There are other important capabilities that can make the difference in your program.
We provide technology evaluation and assessment, competitive analysis, and services for intellectual property generation and landscape.
We can help you strengthen your intellectual property portfolio or create a matrix of existing art to determine opportunities and points of weakness. Our industry experience ensures a thorough assessment and we can offer distribution of your company's products across all medical device markets.
In addition, we provide design control, compliance related documentation tracking, regulatory filings and domestic and offshore sourcing of components and subassemblies.
Medical Device Design & Development Phases
Our modular service provides maximum flexibility. We offer our customers a full turnkey approach or individual services to suit your precise needs. Come to us with a concept, or enter at any phase in the process. We'll get your project where it needs to go.
Concept
This phase begins with a concept or problem. In Phase 1, we gain an understanding of the market requirements and design input. We brainstorm multiple concepts and then narrow them down. With access to rapid prototyping technology, we can put prototype devices into the hands of the end user for feedback on feasibility. We iterate working models and can support market research and focus groups as needed.
Development
A full project plan is developed and formal design controls apply. The conceptual design is refined. We continue design iterations, establish detailed engineering specifications and tolerances. Our engineers will initiate hazard analysis on the design and begin development of test methods. By the end of Phase 2 the design form has been selected and critical performance requirements tested.
Verification/validation
Test methods are finalized. Design verification testing ensures design performance meets design input objectives. Design validation testing is performed under defined operating conditions (either actual or simulated use) on initial production units or equivalents. Product packaging design is completed and biocompatibility testing performed.
Manufacturing scale-up
Our scale-up includes process validation, process capability and sterility validation. All of this testing is performed on product built under full manufacturing level documentation. Suppliers are qualified, production equipment is installed and qualified. Shelf life requirements are met before phase 4 is complete. Final documents are established including labeling and instructions for use.
Full-scale manufacturing
All regulatory approvals are secured and carefully trained staff implement full production of your product. We build the inventory to support product launch and provide timely response to your product forecasts.
CONTACT